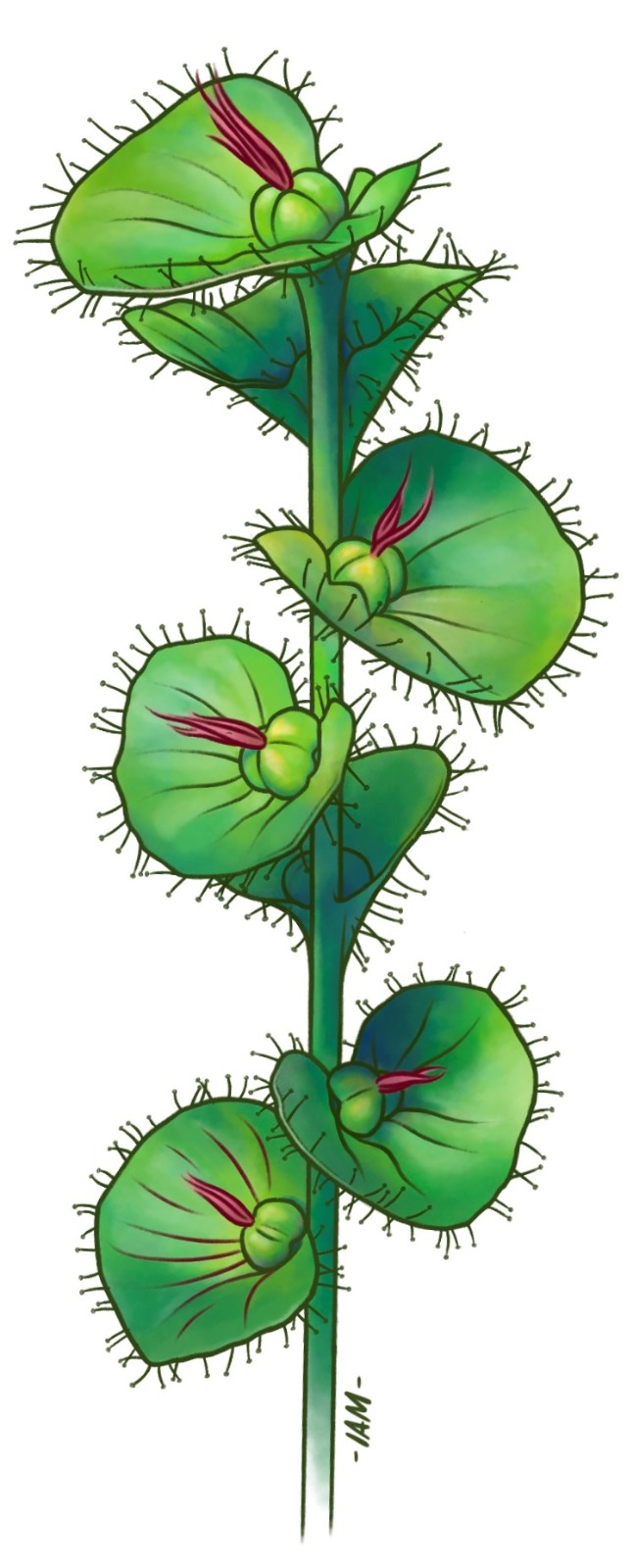 The genus Acalypha L., including c. 500 species, is the third largest genus in the Euphorbiaceae family after Euphorbia and Croton. Acalypha includes herbs, shrubs, and small trees, and is present in all tropical and subtropical regions of the Planet, with some species also reaching temperate regions. About two thirds of the species have an American origin. They thrive in a wide variety of habitats, from tropical rain forests to dry areas, and from sea level up to 4,100 meters of altitude. Acalypha includes several species of economic importance, and there is also evidence of potential pharmacological uses in many species, standing out for their anti-bacterial, antifungal, or anticancer activity, and remedy for insect and reptile bites.
Acalypha is a genus in urgent need of in-depth study. The most recent global monograph, published by Pax & Hoffman in Adolf Engler's Das Pflanzenreich in 1924, is now outdated. Up to 160 new species and subspecies have been described since then. We have dedicated the last two decades to the study of the genus mainly in the American continent, and we are currently also studying the species of Africa and the West Indian Ocean Region. As a result, various monograph, national floristic treatments, synopsis, and checklists have been published, and up to 40 new species have been discovered.
This website aims to provide comprehensive, relevant, updated, and scientifically validated information on the taxonomy and biogeography of Acalypha. It includes an online information system from which all available databases can be readily accessed, so that any information on biological diversity could be incorporated to global networks (GBIF, etc.). We currently include nomenclatural information on all the published names of Acalypha and related genera (c.1,700 names), c. 35,000 herbarium specimen records, links to c.10,000 photographs and drawings, and more than 1,300 bibliographic references.
This website is work in progress. It includes more information about species in South American countries than the rest of the world, but we are gradually working to improve and include information of all remaining taxa.
We are always looking for new collaborations, and invite the scientific community, as well as any student or graduate who may be interested, to get in touch if you think we may be able to help with any ideas or questions. Help us to increase the knowledge on this large and neglected group of tropical plants, where many species still wait to be discovered.